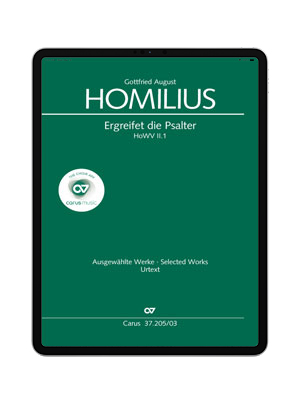 Gottfried August Homilius
Ergreifet die Psalter, ihr christlichen Chöre
Cantata for Advent
HoWV II.1
The cantata "Ergreifet die Psalter, ihr christlichen Chöre" for the first Sunday in Advent was written during Homilius' time as Kreuzkantor in Dresden, but cannot be more precisely dated than that. The dialog form of the opening chorus ("Wer ist derselbe König der Ehren? Es ist der Herr, stark und mächtig.") is reflected in the double-choir structure of the work. A special feature and a challenge are the recurring a cappella passages. Here, self-confidence and support are required in the choir!


Experience choral music. Anytime. Anywhere.
At home and out and about: Straight away your choral works will always be with you to practice! With carus music, the new choir app, you can follow the music while listening to a top-class recording on your smartphone or tablet, and easily practice your own choral part with the help of a coach. With carus music, your concert preparation will be easy and efficient to master – and fun!


Performers: Katja Fischer (soprano), Alexander Schneider (alto), Martin Petzold (tenore), Jochen Kupfer (basso) – Körnerscher Sing-Verein Dresden – Peter Kopp