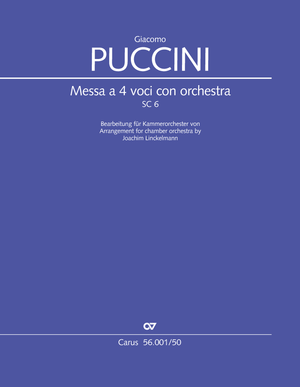 Giacomo Puccini
Messa a 4 voci con orchestra ("Messa di Gloria"). Arrangement for chamber orchestra arr. Joachim Linckelmann
Messa di Gloria
Puccini composed his Messa a 4 voci con orchestra in 1878–1880. The musical quality, the energy, and the freshness of this youthful work led the composer to quote from his Mass in later operas, ensuring an ever-growing popularity for the work after its rediscovery in 1952.
With this arrangement for chamber orchestra (flute, oboe, clarinet, horn, bassoon, timpani, and strings), more choirs now have the opportunity of performing this work without the choir being dominated by a full-scale symphony orchestra. The symphonic character of the work is nevertheless preserved. This scoring offers an optimal balance between transparency and orchestral sound.
All the vocal parts (soloists and chorus) are identical with the original version (56.001), so that the vocal score and chorus score of that version can be used.

Editor

Joachim Linckelmann Personal details
Arranger

Joachim Linckelmann Personal details
Composer

Giacomo Puccini Personal details
Reviews

... Linckelmann lotet sinnvoll die Möglichkeiten des Instrumentariums aus, sorgt etwa mit den Holzbläserdurchgängen am Ende des "Kyrie" für Anklänge an Dvorák und bereitet mit dem exzellent aufgestellten Klangkörper einen mustergültig intimen Puccini – übrigens auch in seiner ebenfalls sehr gelungenen Bearbeitung von Puccinis Preludio sinfonico ...
Badische Zeitung, 11.6.2018