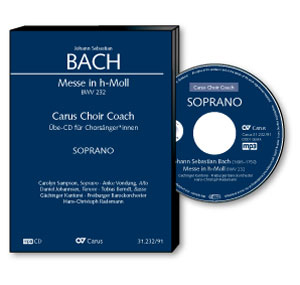 Johann Sebastian Bach
B minor Mass
BWV 232
Bach's
Mass in B
minor
poses one of the really great challenges of the entire choral literature. The proportion of choir participation is very high and the choral settings are among the best that Bach composed: A performance of the
Mass in B minor
is one of the highlights of any "singer's life." However, the demands on the singer are certainly high, sometimes extremely virtuosic, and sometimes harmonically complex. And yet, Bach's
Mass in B minor
is a work full of mystery. Even though questions about the occasion for which it was composed must remain unanswered, the Carus edition guides you securely through complicated questions regarding the "correct" version and offers an altogether consistent musical text.
The Carus Choir Coach offers choir singers the unique opportunity to study and learn their own, individual choral parts within the context of the sound of the entire choir and orchestra. For every vocal range a separate CD containing each choir part is available. The CD is based on recorded interpretations by renowned artists who have performed the work from carefully prepared Carus Urtext editions. Each choir part is presented in three different versions:
Original recording
Coach: each part is accompanied by the piano, with the original recording sounding in the background
Coach in slow mode: the tempo of the coach slows down to 70% of the original version – through this reduction passages can be learned more effectively.