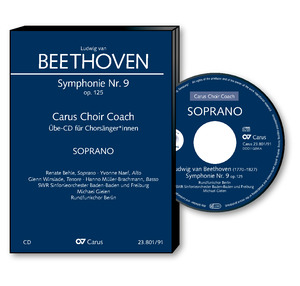 Ludwig van Beethoven
9th Symphony. Finale (Choral Symphony)
Ode to Joy. Vocal score compatible with all available music editions
op. 125,4, 1815-1824
Beethoven's Ninth was hotly debated amongst listeners and music critics at first. But his setting of Schiller's "Ode to Joy" in the final movement is now sung by classical music fans and many others as a matter of course. However, the catchy theme is deceptive, and the choral writing is in fact much more difficult than it looks. Dizzy heights and frequent contrasting tempo changes demand absolutely everything from the choral singer: here, every detail has to work, for this movement is ultimately the crowning conclusion of the 70-minute symphony. 


The Carus Choir Coach offers choir singers the unique opportunity to study and learn their own, individual choral parts within the context of the sound of the entire choir and orchestra. For every vocal range a separate CD containing each choir part is available. The CD is based on recorded interpretations by renowned artists who have performed the work from carefully prepared Carus Urtext editions. Each choir part is presented in three different versions:
Original recording
Coach: each part is accompanied by the piano, with the original recording sounding in the background
Coach in slow mode: the tempo of the coach slows down to 70% of the original version – through this reduction passages can be learned more effectively.