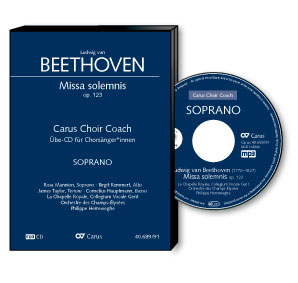 Ludwig van Beethoven
Missa solemnis
op. 123, 1817/23
Beethoven's masterpiece is a major project for any choir, not just because of its length, but also because it contains some of the most difficult passages found in the choral repertoire. In particular the dreaded fugues of Beethoven's late period, and the changes between extreme tempi make one thing clear: you won't get far enough with rehearsals alone, here you really have to practice! With a good performance, however, you experience why Beethoven himself considered the Mass to be his "greatest and most successful work".



The Carus Choir Coach offers choir singers the unique opportunity to study and learn their own, individual choral parts within the context of the sound of the entire choir and orchestra. For every vocal range a separate CD containing each choir part is available. The CD is based on recorded interpretations by renowned artists who have performed the work from carefully prepared Carus Urtext editions. Each choir part is presented in three different versions:
Original recording
Coach: each part is accompanied by the piano, with the original recording sounding in the background
Coach in slow mode: the tempo of the coach slows down to 70% of the original version – through this reduction passages can be learned more effectively.