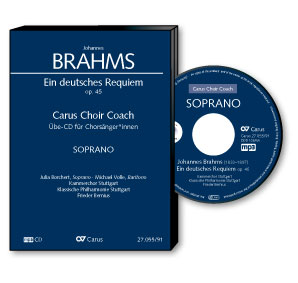 Johannes Brahms
German Requiem
to words from the Holy Scriptures
op. 45
Brahms' Deutsches Requiem is indisputably one of the key works in the history of oratorio. The choir, as the voice of the people, carries the musical action almost continuously. In his Requiem Brahms masterfully combines compositional techniques drawn from earlier centuries with what were then new harmonies, a combination which still presents challenges for choral singers today. So that the work achieves the monumental impression of sound and the desired depth of expression the composer intended, the parts need to be secure – no easy matter with many changes of key, excursions into distant harmonies, and all sorts of pitfalls regarding intonation.


The Carus Choir Coach offers choir singers the unique opportunity to study and learn their own, individual choral parts within the context of the sound of the entire choir and orchestra. For every vocal range a separate CD containing each choir part is available. The CD is based on recorded interpretations by renowned artists who have performed the work from carefully prepared Carus Urtext editions. Each choir part is presented in three different versions:
Original recording
Coach: each part is accompanied by the piano, with the original recording sounding in the background
Coach in slow mode: the tempo of the coach slows down to 70% of the original version – through this reduction passages can be learned more effectively.