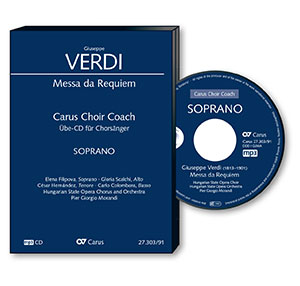 Giuseppe Verdi
Messa da Requiem
Verdi's
Requiem
is one of the major works in this genre in the 19th century. It demands just about everything of the choral singer: rapidly-changing harmonies, also in distant keys, and some tremendously fast tempi serve the liturgy, to which drama is added by musical means. The apocalypse has never sounded more beautiful than in the famous "Dies Irae"! But each choral singer must be in good voice so that he or she can give expression to the fear of damnation and the hope of redemption in equal measure.
The Carus Choir Coach offers choir singers the unique opportunity to study and learn their own, individual choral parts within the context of the sound of the entire choir and orchestra. For every vocal range a separate CD containing each choir part is available. The CD is based on recorded interpretations by renowned artists who have performed the work from carefully prepared Carus Urtext editions. Each choir part is presented in three different versions:
Original recording
Coach: each part is accompanied by the piano, with the original recording sounding in the background
Coach in slow mode: the tempo of the coach slows down to 70% of the original version – through this reduction passages can be learned more effectively.