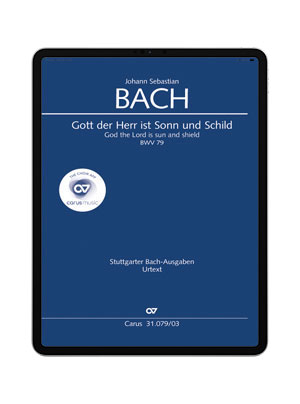 Johann Sebastian Bach
God the Lord is sun and shield
Cantata for Reformation Day
BWV 79, 1725 (?)
The cantata Gott der Herr ist Sonn und Schild was very probably performed for the first time on Reformation Day (31 October) 1725. The opening chorus contains several challenges, with a rapid sequence of vocal entries and intricate writing in which each singer's voice needs to be secure in order not to fall by the wayside. From "Er wird kein Gutes mangeln lassen" at the latest, it is worth using the coach in slow mode so as not to be caught unawares by the short note values and the unpredictable text underlay.
Experience choral music. Anytime. Anywhere.
At home and out and about: Straight away your choral works will always be with you to practice! With carus music, the new choir app, you can follow the music whilst listening to a top-class recording on your smartphone or tablet, and easily practice your own choral part with the help of a coach. With carus music, your concert preparation will be easy and efficient to master – and fun!
Performers: Dorothee Mields (soprano), Benno Schachtner (alto), Tobias Berndt (basso) – Gaechinger Cantorey – Hans-Christoph Rademann