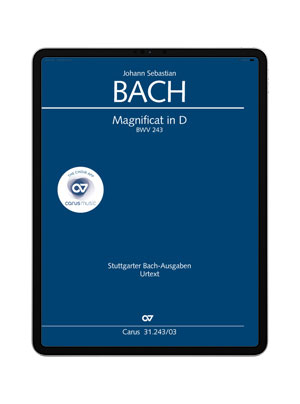 Johann Sebastian Bach
Magnificat in D
BWV 243
Bach composed particularly demanding and difficult works in his first year in Leipzig in 1723. These include the Magnificat, first written in E flat major for a Christmas performance and reworked about eight years later into the present D major version. This work requires an experienced chorus, as the parts are almost instrumentally conceived and rich in coloratura writing. The extremely agile vocal parts, with many large interval leaps, need to be thoroughly understood, and the position of each line within the dense web of other parts securely grasped. Examples of such tricky passages include the rapidly following entries at "Omnes generationes", and the long coloratura sixteenth note passages at "Fecit potentiam".
Experience choral music. Anytime. Anywhere.
At home and out and about: Straight away your choral works will always be with you to practice! With carus music, the new choir app, you can follow the music whilst listening to a top-class recording on your smartphone or tablet, and easily practice your own choral part with the help of a coach. With carus music, your concert preparation will be easy and efficient to master – and fun!
Performers: Monika Frimmer (soprano), Kerstin Klein (soprano), Kai Wessel (alto), Hermann Oswald (tenore), Andreas Scheibner (basso) – Dresdner Kammerchor, Dresdner Barockorchester – Hans-Christoph Rademann