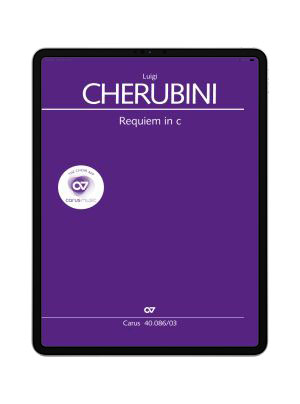 Luigi Cherubini
Requiem in C minor
Cherubini's Requiem was composed for the church memorial ceremony on the anniversary of the death of Louis XVI. The work contains some special features which traditionalist clerics of the time objected to, such as the scoring for mixed chorus and the graphic depiction of the Last Judgement in the music. There are no soloists, so the choir alone has to master all the demanding passages.

Experience choral music. Anytime. Anywhere.
At home and out and about: Straight away your choral works will always be with you to practice! With carus music, the new choir app, you can follow the music while listening to a top-class recording on your smartphone or tablet, and easily practice your own choral part with the help of a coach. With carus music, your concert preparation will be easy and efficient to master – and fun!
Performers: Kammerchor Stuttgart, Hofkapelle Stuttgart - Frieder Bernius