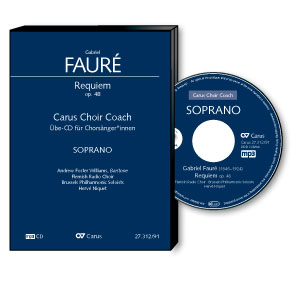 Gabriel Fauré
Requiem. Version for symphony orchestra
op. 48, 1900
Gabriel Fauré's Requiem is the key work among the sacred compositions by the French master. Already during the composer's lifetime, it proved very successful with the audiences, and this success remains undiminished all over the world to this day. In contrast to more "theatrically" conceived settings, it was Fauré's intention to evoke a peaceful and conciliatory mood with his work. Even though the choral parts are very suitable for most choir singers due to their melodic accessibility, many passages are harmonically extremely sophisticated and require careful preparation in rehearsal.
The Carus Choir Coach offers choir singers the unique opportunity to study and learn their own, individual choral parts within the context of the sound of the entire choir and orchestra. For every vocal range a separate CD containing each choir part is available. The CD is based on recorded interpretations by renowned artists who have performed the work from carefully prepared Carus Urtext editions. Each choir part is presented in three different versions:
Original recording
Coach: each part is accompanied by the piano, with the original recording sounding in the background
Coach in slow mode: the tempo of the coach slows down to 70% of the original version – through this reduction passages can be learned more effectively.