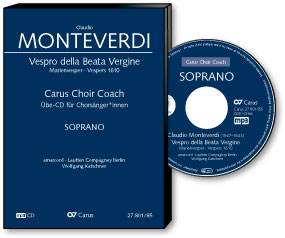 Claudio Monteverdi
Vespro della Beata Vergine
Vespers 1610
SV 206
Monteverdi's Vespers 1610 is now one of those pieces – like Handel's Messiah or Bach's Passions – which every choral singer wants to sing at some point. But reading the music notation alone is a challenge for choral singers more familiar with 18th and 19th century repertoire! And you have to get used to the church modes, the independence of the individual parts, the strongly contrasting sections, and much more besides. Then a performance will be an unforgettable experience. Guaranteed!
 
Pitch and temperament used in this recording:
pitch: 465 Hz; temperament: ¼-comma meantone
The Carus Choir Coach offers choir singers the unique opportunity to study and learn their own, individual choral parts within the context of the sound of the entire choir and orchestra. For every vocal range a separate CD containing each choir part is available. The CD is based on recorded interpretations by renowned artists who have performed the work from carefully prepared Carus Urtext editions. Each choir part is presented in three different versions:
Original recording
Coach: each part is accompanied by the piano, with the original recording sounding in the background
Coach in slow mode: the tempo of the coach slows down to 70% of the original version – through this reduction passages can be learned more effectively.