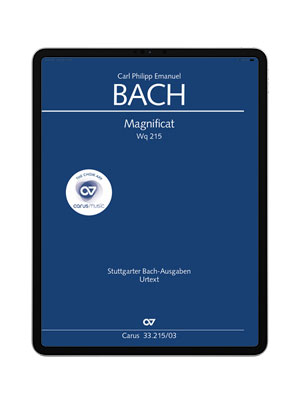 Carl Philipp Emanuel Bach
Magnificat
BR-CPEB E 4 (Wq 215), 1749
With his first major vocal work, his Magnificat of 1749, Carl Philipp Emanuel Bach created a magnificent and forward-looking setting of this well-known text, a work quite unrivalled for its time. In the choral writing, CPE Bach used a quite different style from the predominantly homophonic style of some of his later works. Unusual harmonic turns and independent part-writing in the fugal movements and elsewhere result in demanding, yet attractive parts for choral singers.
Experience choral music. Anytime. Anywhere.
At home and out and about: Straight away your choral works will always be with you to practice! With carus music, the new choir app, you can follow the music whilst listening to a top-class recording on your smartphone or tablet, and easily practice your own choral part with the help of a coach. With carus music, your concert preparation will be easy and efficient to master – and fun!
Performers: Monika Mauch (soprano), Matthias Rexroth (alto), Hans Jörg Mammel (tenore), Gotthold Schwarz (basso) – Basler Madrigalisten, L'arpa festante – Fritz Näf